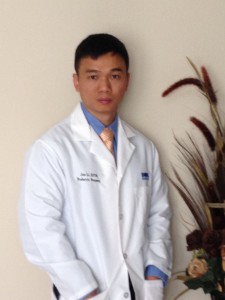 Dr. Joe Li is a highly regimented individual and believes in overall health and fitness. His goal is to past along this enthusiasm and energy to his patients to help them feel and function better.
Dr. Li ranks amongst the very top in training with his degree, completing a full 3-year residency at Detroit Medical Center. He trained with over 100 active podiatric attending surgeons on staff. In addition, he was scrubbed into surgery almost on a daily basis during his residency years with foot and ankle trained orthopedists, orthopedic trauma surgeons and pediatric orthopedic surgeons at the renowned Children's Hospital of Michigan.​
​Residency
Wayne State University – Detroit Medical Center (Detroit, Michigan)
DMC's Detroit Receiving Hospital, a level 1 trauma hospital with a total of 1,032 registered hospital beds
Sinai Grace Hospital, a level 2 trauma center with 404 licensed beds
DMC's renowned Children's Hospital of Michigan in the pediatric orthopedic department​
​What is a Podiatrist?
Podiatrist is a doctor specializing in treating conditions associated with the foot, ankle and related structures of the leg. Dr. Li is committed to the delivery of optimal quality and cost effective podiatric medicine. It is our goal of our office staff and administration to provide our podiatry clinic's patients with excellence at every phase of their diagnosis and treatment.
Hospital Affiliation
Our podiatrist has hospital privileges, affiliations and takes call at ADVENT HEALTH HOSPITAL